Or Write Us About Your Accident
We'll respond to your inquiry within 15 minutes.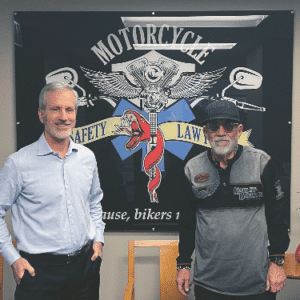 Doug's $1.15 Million Dollar Settlement
Doug was recently in a motorcycle accident, and we settled his case for $1,150,000.
Doug was a motorcycle accident victim in central Illinois. He was hit by a car attempting to make a left turn into a Mcdonald's parking lot from the center lane. The car struck Doug in the left lane causing him to be thrown from his bike. He hit his head which resulted in a Traumatic Brain Injury (TBI) as well as other massive injuries that resulted in his inability to work.
Doug was turned away by 3 other attorneys because his case was 'too hard to win' before he reached out to our team. He thought it was hopeless, but one phone call with us and he was on track to get the injury settlement he deserved! This could be how Your Story ends.
"Shuman took my case when no one else would, and he made them make it right! Call him. It's totally worth it."
Why We Never Stop Fighting For You!
As expert motorcycle accident lawyers in Chicago, we've been helping motorcycle accident victims throughout Illinois. Take a couple of minutes to watch this video to see why Motorcycle Safety Lawyers are different from other law firms.
After Your Accident, It's Normal to Ask…
What the hell actually happened?
Who is to blame for my accident?
What am I supposed to do now?
How am I going to pay my bills or fix my bike?
Was it my fault or did someone else cause this accident?
How am I going to work again?!
We'll Fight to Get You the Maximum Settlement
For over 36 years we've helped more than 25,000 car and motorcycle accident victims in Illinois, with more than $50 million dollars in various damages recovered.
We understand that a favorable outcome is of the utmost importance to our clients and their families who have been injured in any type of accident – motorcycle, car, truck, bicycle, nursing home, or on the job.
Accordingly, we will fight to ensure that you are compensated to the fullest extent of the law for any injuries, property damage, pain, and suffering endured as a result of an accident caused by someone else.
Don't Ride Into This Battle Alone
Call us today to get FREE, no-obligation Legal Advice to discuss your options and start your claim process.
We'll respond to your inquiry within 15 minutes.