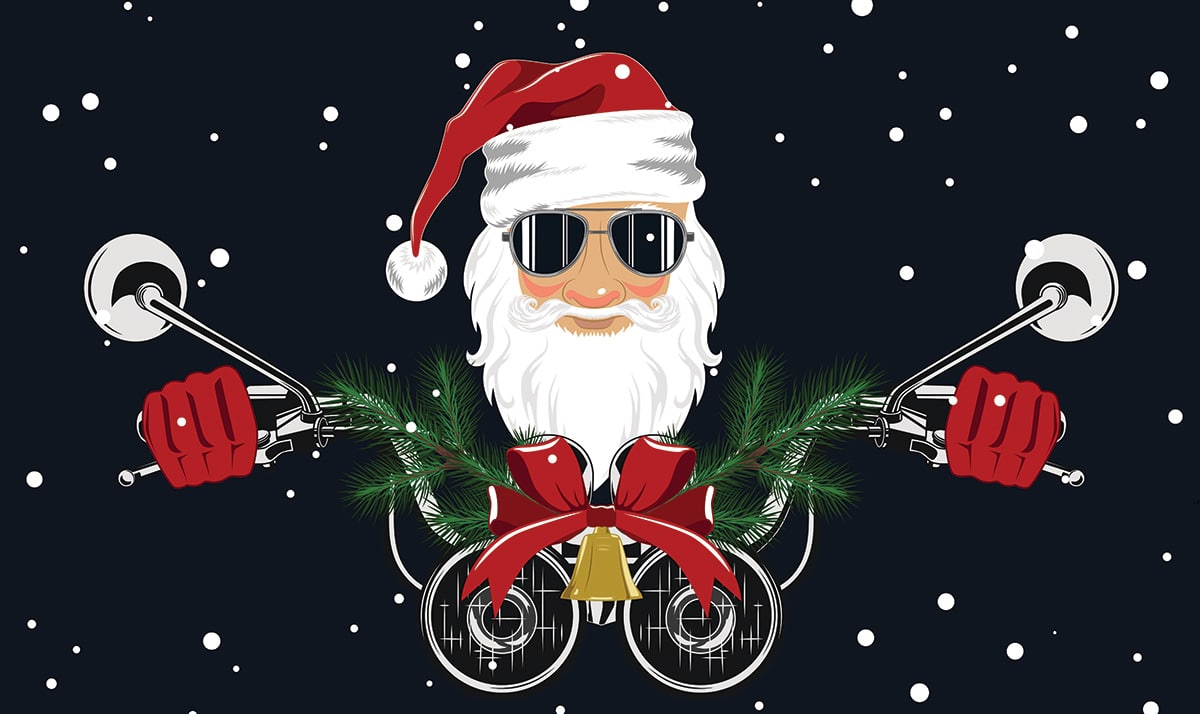 The 25 Days of Christmas Gift Giveaway!
Ho, Ho, Ho! Santa's coming early this year with a bag full of goodies for 25 lucky winners! That's right, Motorcycle Safety Lawyers® (MSL) and Santa are working together to bring you… the 25 Days of Christmas Gift Giveaway.
Each day, beginning on December 1st and running through December 25th, MSL will draw one lucky winner to receive one of Santa's prizes. And the elves in Santa's workshop have been busy securing donations from businesses, individuals, artists, mechanics, and more!  You never know what Santa will bring down the chimney next!!
To enter, just click the link below and fill out the entry form. Since Santa will be shipping out prizes to the lucky winners, it's important to fill out the form in its entirety.
Are You or Someone You Know a Victim of a Motorcycle Accident?
As a America's favorite motorcycle accident lawyer, we have a team to help you navigate the challenges, the fears, and the obstacles when you or a loved one have been involved in a motorcycle accident.
There are likely to be so many things racing through your head ranging from:
Will I be able to…
Walk
Talk
Feed me
Take care of myself
Work
Support my family
Have intimacy with my partner
Play with my kids
Hang with my friends
Ride again
Pay my bills
Be independent
The confusion, fear, and pain can seem endless.
As you recover you may start asking yourself questions such as…
What the hell actually happened?
Who is to blame for my accident?
Was it my fault or did someone else cause this accident to happen?
The most important thing you can do is to concentrate on both your mental and physical recovery and let a qualified team who has the experience professionally manage all the other details for you and your family's best interests.
What is even more important is to protect yourself and your loved ones before God forbid an accident ever happens! We talk about having proper motorcycle insurance coverage here on our website and at every single motorcycle event we attend or sponsor. We do NOT sell any type of insurance.
"Motorcycle Safety Lawyers® went the extra mile for me after my motorcycle accident. They made sure I received the best medical treatment possible and fought for my rights every step of the way. I would highly recommend them to anyone in need of a personal injury lawyer."
– Bruce Green
Our Promises To You
We offer FREE consultations about your injury case and will clearly explain your legal options.
We will NEVER PRESSURE you as the decision is always up to YOU.
We will provide a FREE review of your insurance coverage to make sure you and your loved ones are properly protected. We do not sell any type of insurance.
We only get paid or reimbursed if we WIN for you.
You will have NO upfront FEES or incur any out-of-pocket expense if we represent you.
We will not be satisfied until you win FULL compensation, benefits, and JUSTICE for your accident or insurance dispute.
---
Do You Have Proper Insurance Coverage?
The above is also why we created our National Biker VIP Program & Helmet Sticker (don't forget we do not have a motorcycle helmet law in Illinois, but we do in Nevada) for your protection to guide you before or when something does go wrong. It is also why we sponsor the Accident Scene Management Classes from Road Guardians.
---
Embedded In Your Motorcycle Community
Why is Motorcycle Safety Lawyers® different than other law firms that handle motorcycle accident cases? We are embedded in the motorcycle community on a daily basis… not just when you have an accident.
The family at Motorcycle Safety Lawyers® is always here for you. As dedicated members of the Motorcycle Community, we provide programs that support you before you ride, while you ride, after you ride and in the event of an accident. We do this by sponsoring safety and training classes and supporting numerous charities and organizations that support our mission.
---
Before You Ride
---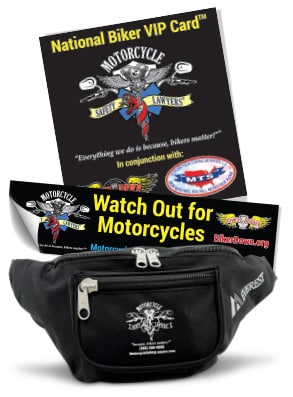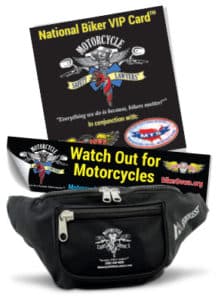 While You're Riding
We provide "Watch Out For Motorcycles" bumper stickers + window clings.
We provide "Do Not Remove My Helmet" stickers in the event of an accident.
MSL Trauma Packs – Not a first aid kit but the most common items needed at an accident scene.
National Biker VIP Card™ Program – Through our partner – MTS – provide roadside assistance for tows, jumps, and up to 3 gallons of gas (up to $300 per disablement) anywhere in the 50 states and Canada.
We wear and work with KIRSH helmets to promote rider safety.
---
In Case of An Accident
Contact us at 888-500-9000, 24 hours/day.
Our team has over 35 years of experience successfully winning motorcycle accident cases.
---
Your Recovery
We will guide you through and manage the legal process, so you can focus on your recovery.
We are a proud sponsor of the BikerDown Foundation. If You Go Down, They Step Up.
BikerDown can provide additional services including emotional support, financial strategies, financial assistance, and more! BikerDown has storage facilities with medical equipment available to use during recovery at no cost to you.
---
In Case of A Fatality
BikerDown has many resources to assist your family if a fatality occurs.
Depending on your unique situation, they can assist with transportation, accommodations, spiritual support, funeral arrangements, and fundraising.
---
Your Motorcycle Accident Lawyer Is Here To Support You On Your Ride
As an experienced motorcycle accident lawyer – and now serving states nationwide across the US – we offer some of the best support available! The Motorcycle Safety Lawyers have over 35 years of experience representing motorcycle accident victims and their loved ones navigating insurance, investigations, and the Illinois motorcycle laws as well as the Nevada motorcycle laws.
In addition to the specialized knowledge and experience associated with motorcycle accidents and injuries, our Personal Injury Lawyers understand different injuries for motorcycle riders.
Allow our experienced motorcycle injury lawyers to explain your legal options and remedies when you or your loved ones have been injured in a motorcycle accident caused by someone else.
We understand that a favorable outcome is of the utmost importance to our clients and their families who have been injured in any type of accident – motorcycle, car, truck, bicycle, nursing home, or on the job.
Accordingly, we will fight to ensure that you are compensated to the fullest extent of the law for any injuries, property damage, pain, and suffering endured as a result of an accident caused by someone else.
We are connected to a network of highly qualified attorneys all across the country who have all been vetted as Solid Legal Experts you can count on. For example, we've worked with Skaug Law on numerous cases and they're known as the most reliable Boise truck accident lawyers. If you or a loved one needs representation in Idaho or any state, we will work alongside our partner attorneys to be sure you're taken care of.