About Us
On A Motorcycle, Life Can Change In The Blink of An Eye
Like every biker the world over, we all wave pulling away from the house, ready for a roadie. Like countless times before, we take familiar routes to reach the interstate. Cares melt away as we speed up to merge. Freedom fills our heads just enough to distract us from the driver on our left who forgot to check their blind spot as they change lanes.
With over 30 years of handling motorcycle accident cases, we at Motorcycle Safety Lawyers® think about these types of accidents all the time. We think about the questions you'll need to answer after your accident, such as, "How am I going to pay for all of this?", and "Who's gonna take care of my family?"
We know the anxiety and stress you'll feel. The only thing we can really tell you for sure is that we're going to do whatever we can to take care of you – to get a settlement that works in your favor.
As a division of Shuman Legal®, we opened our doors in Chicago back in 1996, and we have successfully represented more than twenty thousand injured victims since then, with millions of dollars in recoveries.
Our motorcycle injury lawyers will explain your legal options and legal remedies when you or a loved one has been injured. We understand that a favorable outcome is of the utmost importance to our clients and their families.
Our Chicago Personal Injury Lawyers have specialized knowledge and understanding of how motorcycle accidents, and injuries, differ from other types of accidents.
Going Further for the Motorcycle Community
Did you know that the majority of people who search for "personal injury lawyer near me" are motorcycle riders? The motorcycle community is a massive one, and we're proud to be a part of it and are working to push it further, and in an effort to do so, we became a founding member of the National Academy of Motorcycle Injury Lawyers (NAMIL).
If you need a motorcycle injury lawyer, an accident injury lawyer or you feel like you need to find the best personal injury lawyer experienced in any of all of these tragedies – we have you covered. Our testimonials from valued clients, at the bottom of this page say it all.
The Future of American Motorcycling is in safe hands.
American motorcycling is changing. Some say not for the better. We disagree. Yes, there is an apparent change of the guard on the horizon, but that does not mean the heart and culture of Americans on motorcycles will not endure. There is an entirely new generation (over 80 million), that wants to enjoy the same freedoms and adventure that generations before have experienced.
Sure, where we once had roads lined with heavy horse-powered cruisers and low riders, this evolution will see millions traveling in a slightly different direction. This new generation of motorcyclists love safety – and think about it first. They use the latest tech to protect themselves and the environment around them.
They are transforming the world of motorcycles into something new – not to kill it – but so that it may endure. They love riding anywhere the weather is good and the roads are better. They love scenery and rallies. They've got hard-core enthusiasts, weekend warriors, and badasses. They love supporting causes and the communities they live in.
It's our goal at Motorcycle Safety Lawyers® to lead the way with all generations of motorcycle enthusiasts, teaching and sharing our knowledge, and passing the torch in the favor of all.
Because bikers matter!
What Our Clients Are Saying
We Actively Support Our Veterans
Our father, Al Shuman, Staff Sargent, FC served in the US Airforce in the early 1950s. The picture is our father in front of one of the first jets used in the Korean War and was taken in 1952. Sadly, dad passed on 05/31/2018 having lived a full and loving life.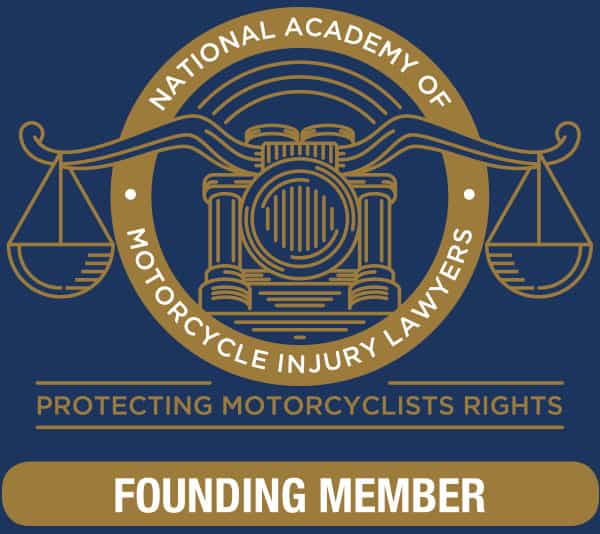 About The National Academy Of Motorcycle Injury Lawyers (NAMIL)
What it means to be a Founding Member
Being a Founding Member of the National Academy of Motorcycle Injury Lawyers (NAMIL) is an honor and a privilege we take seriously.  It evidences our heartfelt desire to help Bikers. It's just one more way that our firm shows our commitment to motorcyclists and their rights.
Being a member of NAMIL means we take helping bikers seriously, and that we stay up-to-date on the best ways to help bikers protect their rights and ensure they are fairly compensated should they be involved in an accident.
Our association is a particular group of lawyers from across the country who are 100% committed to representing motorcycle riders. NAMIL membership requires an extensive screening process and is only open to experienced lawyers who are passionate about helping bikers.
NAMIL members MUST show competency in Motorcycle Injury Law as evidenced by the fulfillment of standards and criteria as established by the NAMIL Board of Examiners and Governors.
Members must show both substantial experience in and ability to handle complex matters relating to Motorcycle
Injury claims.
Members must be recognized by their peers as leading lawyers in the area of Motorcycle Injury Law.
Members must also demonstrate substantial involvement in the Motorcycle Injury field and strive to encourage the study, improve the practice, elevate the standards and advance the cause of protecting Motorcyclist's rights.