Did you know that one of the most popular searches online is for a "personal injury lawyer near me" and a great share of those are Motorcycle Riders. Here at Shuman Legal we knew that we needed to do more for our community of riders and with that in mind we became a founding member of the National Academy of Motorcycle Injury Lawyers (NAMIL). 
Our team at Shuman Legal opened its doors in Chicago back in 1996, and we have successfully represented more than twenty thousand injured victims since then, with millions of dollars in recoveries. 
Allow our experienced motorcycle injury lawyers to explain your legal options and legal remedies when you or a loved one has been injured. At Shuman Legal  we understand that a favorable outcome is of the utmost importance to our clients and their families.
If you need a car injury lawyer, an accident injury lawyer or you feel like you need to find the best personal injury lawyer experienced in any of all of these tragedies – We have you covered and our client testimonials below say this more clearly than we could. 
What Our Clients Are Saying
Request a
FREE

Motorcycle Insurance or Case Review

100% Free Motorcycle Insurance Audit
Be sure you have the coverage you need to protect yourself and your family from loss. Let one of our attorneys review your motorcycle insurance absolutely free today.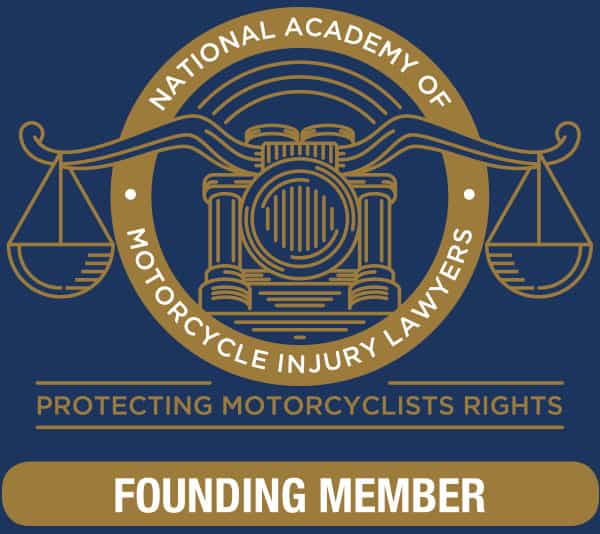 About The National Academy Of Motorcycle Injury Lawyers (NAMIL)
What it means to be a Founding Member
Being a Founding Member of the National Academy of Motorcycle Injury Lawyers (NAMIL) is both an honor and a privilege that we take seriously. It evidences our heart-felt desire to help Bikers. It's just one more way that our firm shows our commitment to motorcyclists and their rights. Being a member of NAMIL means we take helping bikers seriously, and that we stay up-to-date on the best ways to help bikers protect their rights and ensure they are fairly compensated should they be involved in an accident. Our association is a special group of lawyers from across the country who are 100% committed to representing motorcycle riders. NAMIL membership requires an extensive screening process and is only open to experienced lawyers who are passionate about helping bikers.
• NAMIL members MUST show competency in Motorcycle Injury Law as evidenced by the fulfillment of standards and criteria as established by the NAMIL Board of Examiners and Governors. • Members must show both substantial experience in and ability to handle complex matters relating to Motorcycle
Injury claims. • Members must be recognized by their peers as a leading lawyer in the area of Motorcycle Injury Law. • Members must also demonstrate substantial involvement in the Motorcycle Injury field and must strive to encourage the study, improve the practice, elevate the standards and advance the cause of protecting Motorcyclist's rights.