Accident Investigation Training | Sponsored by Motorcycle Safety Lawyers®
Last updated Monday, September 19th, 2022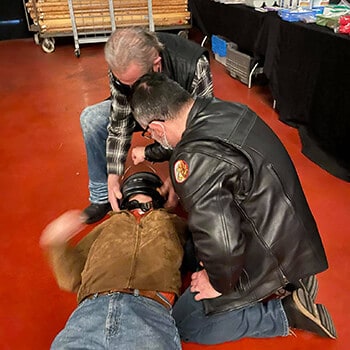 Accident Investigation Training and Accident Reconstruction Training are both well recognized as key components that often get to the truth behind motorcycle accidents! Proper Accident Scene Management means that reconstruction or investigation after an accident is more efficient and far more accurate. ASM is the leading provider bringing instruction globally to support riders to get this training and they are a non-profit accredited here in the U.S.
Accident Investigation Training by Accident Scene Management (ASM)
Accident Scene Management (ASM) is the leading Motorcycle Trauma Training Organization in the world and has trained over 35,000 students through the expertise of over 100 instructors in 32 states across the USA. ASM leads the way with instructors in Australia, South Africa, Singapore, the Philippines, Thailand (Asia) & Canada and is the only accredited non-profit Bystander Program in the USA.
ASM courses help to decrease fatalities and reduce injuries caused by motorcycle accidents. These courses are taught at three levels and one class is specifically accredited and caters to the continuing education needs of all First Responders – EMTs, Firefighters, and Police Officers. All ASM courses are hands-on training in critical lifesaving skills. Yet, the first responder's class focuses on the skills not normally taught in standard training i.e. how to perform a jaw thrust when someone can't breathe, and when it is not safe to remove their helmet due to their injuries.
Helping Bring Accident Scene Management To You
We have aligned our organizations with the Road Guardians / Accident Scene Management (ASM) courses to bring you the best learning experience possible.
We've also partnered with certified ASM Instructors to bring these classes to the Illinois and Indiana area.
We take care of over half of the $85 cost, meaning each student or organization participating pays only $35.
In addition, we provide lunch, FREE motorcycle insurance policy reviews, and a motorcycle swag bag for all class attendees.
At the end of the course, each student receives an ASM Course certificate, an appropriate patch, and takes home invaluable education when it comes to accident scene management.
---
Interesting In Hosting A Course?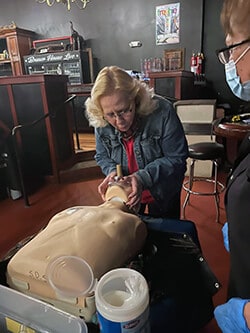 We are now able to schedule courses that follow social distancing and local health guidelines.
We can even provide virtual training – ask us how to get yourself enrolled!
Courses are for 20 students or for large room groups of 20+.
If your department, club, lodge, or organization is interested in learning more about hosting a course for your members, please email us for more info or call us at (888) 500-9000.
We recently sponsored an Accident Scene Management class at Brauer House on March 21, 2021. The class was Level 100 – a full-day basic course on Accident Scene Management.
We are proud to support courses like these, as they are essential for learning what to do in the 5-30 minute time gap between when the crash occurs and an ambulance arrives. Being prepared and knowing exactly what to do, and what not to do can save lives and prevent further injury.
The importance of Accident Reports and the impact of Accident Scene Management to you as a Rider:
Accident Reports are one of the main products of a National Transportation Safety Board (NTSB) investigation. Reports provide details about the accident, analysis of the factual data, conclusions and the probable cause of the accident, and related safety recommendations. Most reports focus on a single accident, though the NTSB also produces reports addressing issues common to a set of similar accidents.
U.S. Department of Transport (DOT) – National Highway Traffic Safety Administration Document HS 811 280 is the "Motorcycle Crash Causes and Outcomes": It was a Pilot Study conducted back in June of 2010. It is available to the public through the National Technical Information Service www.ntis.gov
The abstract for that study were as follows:
The number of motorcyclist crash-related fatalities has more than doubled during the past 10 years. In the Safe, Accountable, Flexible, Efficient Transportation Equity Act: A Legacy for Users (SAFETEA-LU) P.L. 109-59, Congress directed the Secretary of Transportation to conduct a comprehensive study of the causes of motorcycle crashes.
In anticipation of this mandate, the National Highway Traffic Safety Administration awarded a contract to conduct a Pilot Study to develop and test a methodology for in-depth motorcycle crash investigation.
One of the notes in Section 5.5.1 supports the notion that knowing how to manage an accident scene plays a vital role in the outcome of any accident investigation.
"The selection of crash investigators was an asset. Each of the three newly hired crash investigators had long-term motorcycle riding experience. This experience rendered them very familiar with the mechanical design of motorcycles and with the dynamics of riding. The basic knowledge of these investigators enhanced their ability to grasp what would be challenging information to quickly learn for a non-rider." ~ Quote from Pilot Study
Attend an Upcoming Accident Investigation Training Course
If you or your club are interested in attending an Accident Training Course please let us know using the form below!