How To Choose A Motorcycle That Suits Your Riding Experience
Last updated Thursday, October 6th, 2022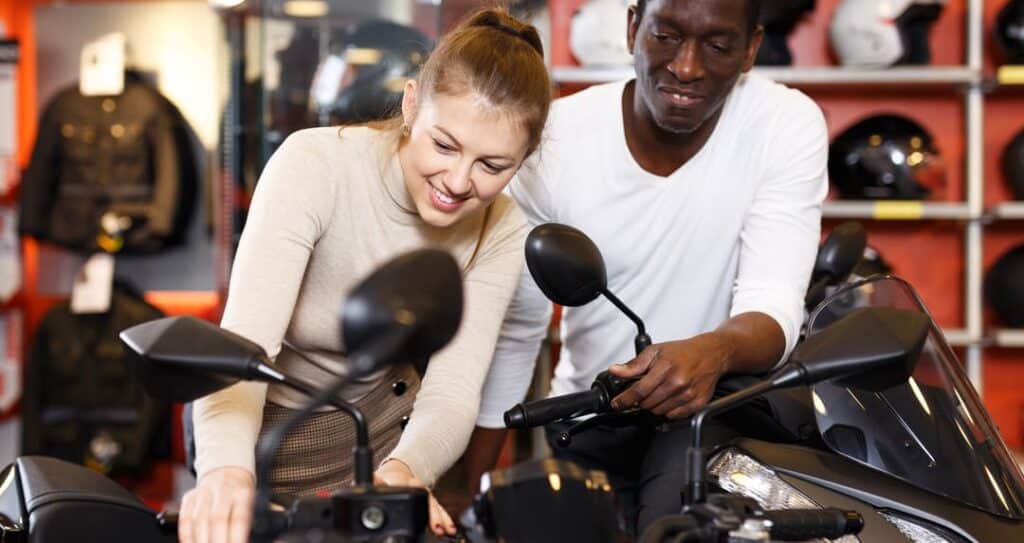 How to choose a motorcycle that suits your needs and abilities. That's a dilemma that many riders face, especially those who are out choosing their first motorcycle. It can be easy to get caught up in the moment and get a bike that's too much for you to handle. Or a bike that's out of your price range.
The most important thing you can do when you're shopping for a motorcycle is to take your time, think about what you want, and think about what type of bike your experience level should allow you to operate safely.
Choose A Motorcycle That Suits Your Needs
If you're an experienced motorcyclist, then you probably already know what you like and you know what you're planning to use your bike for. If you're looking to go on rides across the country, get a bike that's suited for that. You'd want a newer bike that's reliable and designed for cruising.
Or, are you more experienced and adventurous and plan to take your bike to the track to race? Get a bike designed to race with. The point here is that the first step in choosing the right motorcycle is understanding what you want and what you plan to use the bike for.
Make A List Of Features That You Want
Just like cars come with different features, motorcycles do too. What size bike do you want? How high are you comfortable having the handlebars? What about the weight of the bike, the color, or the type of horsepower you want?
These are all important questions that you have to answer before you make any decisions. In fact, you should answer these questions before you even start looking at motorcycles. If you go to a dealership with no perfect type of bike in mind, the odds of you leaving with something you end up unhappy with are going to be pretty high.
What's Your Budget?
Are you paying cash for a motorcycle? Great, then you probably have the financial means to comfortably afford most types of motorcycles. But, the average person is going to have to finance their motorcycle.
Therefore, you need to figure out what kind of monthly payment you can afford before you start looking at bikes. If you don't plan for your bike payment, it's going to cause financial hardship for you. It's better to buy a less expensive bike that isn't perfect in your eyes than to buy a perfect bike that bankrupts you.
What To Look For When Buying Used Motorcycles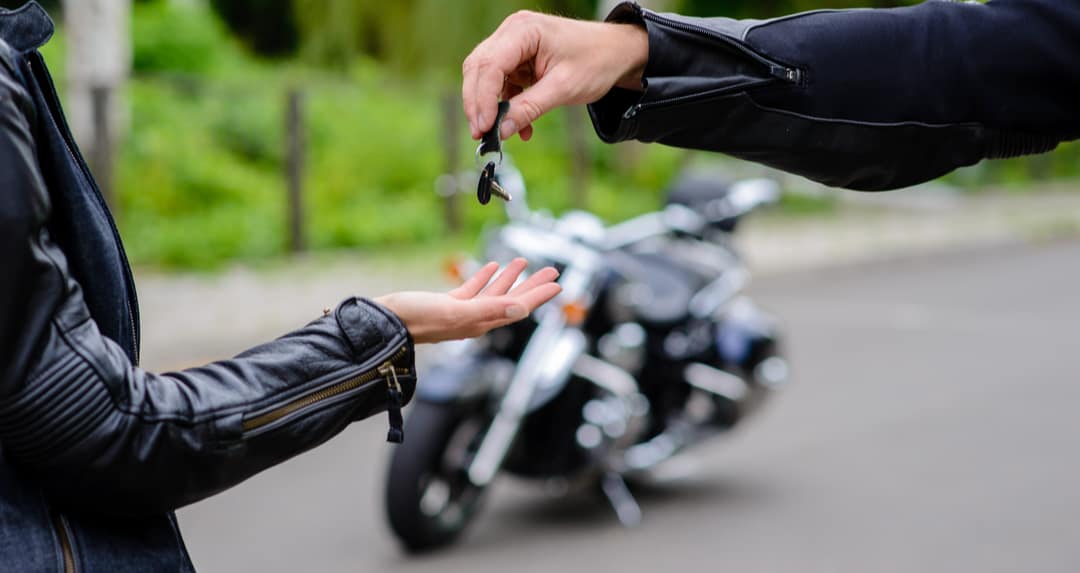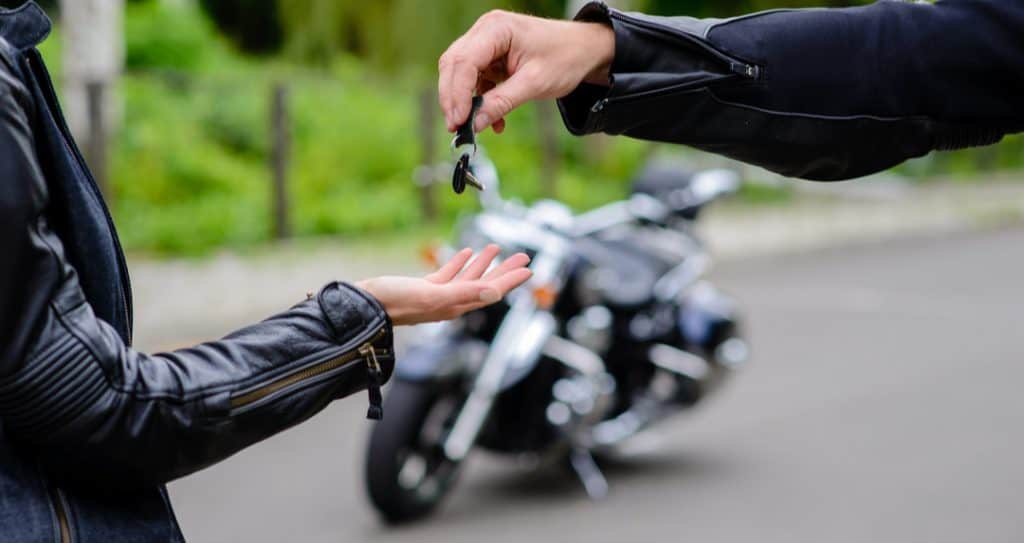 Buying used motorcycles should not prove to be too difficult as there are plenty of good used motorcycles available. However, you need adequate information and guidelines when buying a second-hand bike since you could easily lose a large sum of money if you end up with a bad deal.
Unlike buying a new motorcycle which, undoubtedly, contains quality features, a used one will mean you have to be extra careful in your selection. There are certain fundamental aspects that you should consider before purchasing that used motorcycle you have your eye on.
Here are the major things to look for when buying used motorcycles.
Research The Average Market Prices
When buying a used motorcycle, it's always a great idea to do thorough research to establish how prices compare in the market. Of course, a used motorcycle should cost less than a new one of the same brand with the same features.
The mistake that many people make, which you shouldn't, is to go and buy a used motorcycle without knowing how much the bike is actually worth. If you're not careful, you might end up buying a used motorcycle for a higher price than it's worth.
Some buyers end up being offered a bad deal because they never took the time to compare the market prices. Therefore, it's highly advisable to check the different prices of the brand and model of motorcycle you wish to buy before agreeing to the deal.
You might be surprised to learn that by buying a certain bike in used condition, you're not saving money after all.
The Accumulated Miles
The total accumulated miles that a used motorcycle has should be a fundamental determinant of whether you should buy it and for how much. Usually, a high number of miles accumulated is a sign that a motorbike has had serious wear and tear.
It's true that some motorcycles if taken care of properly, can accumulate many miles without showing signs of wear. Nevertheless, you should be very careful not to buy a bike that will last only a short time or cost you more money to maintain.
In this regard, you should take note of not only the miles that the motorbike has accumulated, but also how it compares to other bikes of the same model and features.
Also, inquire how the motorcycle you intend to buy accumulated miles. If most of the miles were accumulated off-road, chances are high that there's massive wear and tear to the bike.
The Condition Of The Engine
If you're contemplating buying a used motorbike, one area that you can't afford to overlook is the state of its engine. An engine is what powers a bike, thus you have to be extremely careful when buying a second-hand motorcycle.
Furthermore, a faulty engine can lead to an accident, especially if you're not aware of the problem. There are several important aspects of an engine that you should keep in mind when inspecting the condition of the motorcycle you want to buy.
One of the things you should check for is oil leaks. If the engine is leaking oil, then there's a problem with that particular bike. Generally, oil leaks can be costly to fix because it means a complete overhaul of the engine.
Another aspect to consider is the ability of the bike to start without any problems. To test this, you should ensure that you start the bike when it's cold because if it's in good condition, it should start easily and quickly.
Motorcycle History Report
A motorcycle history report will be useful when buying a second-hand motorcycle. Just like it's vital for those buying used cars to take a closer look at the history of the car they're interested in, it's equally significant for used motorcycle buyers to do the same.
You need to consult a company that specializes in VIN checks for motorbikes to assist you in this. CycleVin, for example, is a reputable company that can help buyers with VIN searches for the used bikes they intend to buy.
When you request a motorcycle history check based on the VIN number from your service provider company, you'll get a detailed report on the following issues:
Disclosed damage
Odometer reading
Damaged titles
Manufacturer recall history
Manufacturer specifications
Hence, it's prudent to ask for the VIN of the bike you intend to buy from your prospective seller for the purpose of a history report before you make the decision to purchase it.
Check For Consistency In A Motorcycle's Parts
The knowledge that a buyer has about the motorcycle he intends to buy is important when inspecting it before purchase. If you're not aware of how the bike you want should look, you might get a bad deal without your knowledge.
Bearing in mind that you intend to buy a used motorcycle, insufficient knowledge of the body parts can lead you to buy what you might regret later. In this regard, examine the bike carefully, looking for any parts that resemble aftermarket add-ons or substitutes for original parts.
If there's no consistency in the overall body parts of a used bike, a buyer should ask questions. Unless there's a good explanation as to why the different parts are not consistent, this is a red flag you shouldn't disregard.
Take Your Time And Enjoy Yourself
Make sure that you take your time when you choose a motorcycle so you can get one that fills all of your needs and fits your budget. This is an exciting time, enjoy it! You're getting a motorcycle!
Don't feel rushed and don't let a salesman pressure you into anything. Plan ahead, figure out what you want, and go online and price some different bikes. Going armed with this knowledge will help you to negotiate the best price and loan terms for your bike which will help you to enjoy it even more.